I've recently accumulated quite a bit of money in my Paypal. Since I can't withdraw them here, I decided to splurge out a bit and go shopping online since I was getting very tired of my present wardrobe. I've been meaning to buy new jeans for a while already as my present pairs were really old. While surfing around for jeans, I stumbled across a nice site, Shopping.com, selling all kinds of jeans, shirts, handbags and even perfume under their
Lucky brand
.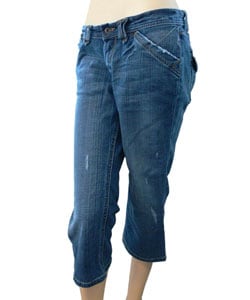 They had the
latest fashion in jeans
including a pair of really nice pair of cropped jeans that I liked. I used to have a pair of cropped jeans but somehow it mysteriously got lost whilst we were moving house and what better time than now to get a new pair?! It looked really soft and comfortable too and was on sale from its original price. I also found some
nice men's shirts
which would make great gifts for my brother who has been looking for funky shirts when he goes out on his party nights.
It's a great site and I like how some of their items had the added offers of free shipping thrown in. Definitely a nice way to spend my hard earned Paypal money! ;)